Real Time Data Feed for Amibroker at Electrifying Speed Data Provided for Equity, Futures & Options, Commodity and Currency.
RT Data for Amibroker
We provide Indian stock and commodity real time market data feed for Amibroker version 5.4 and above.
Live Data for Metastock
Due to Technical Issues we have stopped providing Real Time Data for Metastock. Data Available for Amibroker only.
Excellent Data Quality
Tick by tick Data is updated for amibroker through multiple dedicated servers for smooth data flow.
Best RT Data
Best Quality RT Data for Amibroker (2-4 sec delayed) for equity, commodity, F&O and Currency with open interest.
Data Backfill
1-Min timeframe data backfill upto 90 days can be taken from RT Data App compatible with Windows XP and above.
Data Features
Data saved on user's machine, upto 99 symbols per feed updated simultaneously, compatible on VPS/Servers/LAN.
Free Amibroker AFLs
A set of three most popular Amibroker AFLs provided free with annual data subscription. Click Here for More Details...
Min. System Requirement
Minimum System Required: Microsoft Win.XP-SP3, Dual Core with 2GB RAM, .Net Framework 4.0 Client Profile, 10" Screen.
Customer Support
Excellent online technical remote support provided by expert staff from Monday to Friday (08.00 am to 07.00 pm).
We Provide Realtime Data for Amibroker. The Real Time Data Feed App updates live charts Tick by Tick with 1 Minute Historical Data Backfill upto 90 days. ValueRT is one of the Leading Stock Market Data Provider for Amibroker Data Feeder, Share Market Live Data and Data Feeds for Amibroker. Easy to use RT Data Feed App is compatible for Windows XP(SP3), Windows 7, Windows 8/8.1, Windows 10 and can be used for Real Time Data for Amibroker ver 5.4 or above. It feeds Intraday Data for Equity, Futures, Options, Commodity and Currency Segments with lowest latency. EOD Data for Amibroker is Available Free of cost to all Intraday Data Subscribers. However, End-of-Day data for all segments alone is also available for subscription.
ValueRT strive to be the Best Realtime Stock Market Data Provider and Amibroker Live Data. Our Real Time Data Services are available for Amibroker Data, Live Futures Data, Equity Intraday Data, Commodity Real time Data, Data Feed for Amibroker and Live Data for Amibroker. ValueRT is Amibroker Real Time Data Provider App works on Windows PC. Excellent After Sales Live Support available from 8.00 am to 7.00 pm. (Tags & Keywords : Realtime, Data, Feeder, Amibroker, Commodity, Equity, Future, Nifty Options, Currency)
#1 Selling RT Data Feeder for Amibroker
High Speed Realtime Data Feed for Commodity, Equity, Futures, Options and Currency Compatible with Amibroker Ver 5.4 and above. Accurate Data at Electrifying Speed with Highest Accuracy and Open Interest in Derivatives.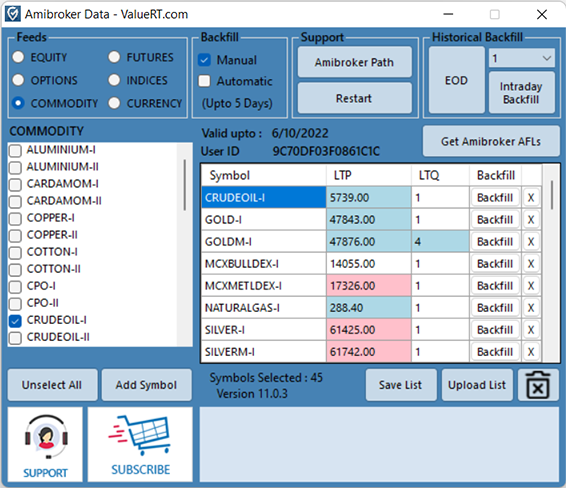 We are Not Selling NSE or MCX Real Time Data